2002-2020 Nissan Altima Timing Marks Diagram (2.5L QR25DE Engine)
Last Updated on February 16, 2020 by Christ
2002-2020 Nissan Altima Timing Marks Diagram (2.5L QR25DE Engine) – Nissan apparently not satisfied with the appearance of the Nissan Altima, 2012 at the world market, especially in America. Although Nissan Altima 2012 has occupied the second best-selling products in the United States last year, still they innovate their performance seriously so that sprang Nissan Altima, 2013. Luxurious and comfortable for families is the concept of this sedan. This family sedan will provide satisfaction for the driver and passengers.
I give a 4.5 rating on appearance 2013 Nissan Altima both interior and exterior. This Japanese family sedan has an elegant and luxurious appearance. You can be proud when having sedan Nissan Altima 2013 because the power and speed of the engine can be thumbs up. Nissan gives two engine choices for the buyer is the 2.5-liter DOHC four-cylinder that produces 182 (38 mpg) or a 3.5-liter V6 engine that produces 270 horsepower paired with a CVT.
2002-2020 Nissan Altima Timing Marks Diagram (2.5L QR25DE Engine):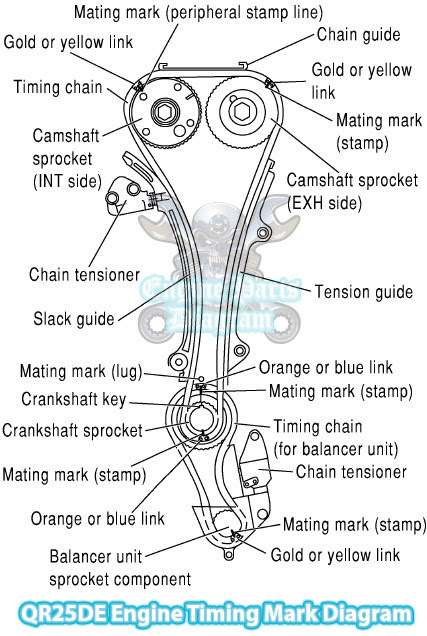 Note: When installing the timing chain, make sure that mating marks are properly aligned. There may be two color variations of the link marks (link colors) on the timing chain. There are 26 links between the gold/yellow mating marks on the timing chain; and 64 links between the camshaft sprocket gold/yellow link and the crankshaft sprocket orange/blue link, on the timing chain side without the tensioner.
For more details please check the following video:
The diagram above applies to the Nissan Altima 2002 2003 2004 2005 2006 2007 2008 2009 2010 2011 2012 2013 2013 2014 2015 2016 2017 2018 2019 2020 year models. Besides being used in the Nissan Altima, this engine is also used in:
Nissan Bassara (1999-2003)
Nissan Serena C24 (2001-2005)
Nissan X-Trail T30 (2001-2007)
Nissan Sentra SE-R (2002-2006)
Nissan Presage (2002-2009)
Nissan Teana (2003-2005)
Nissan Frontier (2005-2016)
Nissan Sentra SE-R (2007-2012)
Nissan Altima Hybrid (2007-2011)
Nissan X-Trail T31 (2007-2016)
Renault Koleos TR25 (2007-2016)
Nissan Rogue (2008-2016)
Suzuki Equator (2009-2012)
Nissan Teana (2013-2016)
Nissan X-Trail T32 (2013-2016)
This diagram is based on the Nissan workshop manual. Hopefully the article of 2002-2020 Nissan Altima Timing Marks Diagram (2.5L QR25DE Engine) useful for you.