2001 Dodge Caravan Timing Marks Diagram (3.8 L EGH V6 Engine) – Dodge Caravan is a car type minivan produced by the American company Dodge since 1984. It was introduced to the market with its twin, Plymouth Voyager as the year 1984. The first generation was based on the floorpan Chrysler S-body, the second – AS-body, the third – NS-body, four – RS-body and the fifth – RT-body. Throughout the period of the production model it was available as a 3 or 4-door van. To drive used many petrol engines V6 and R4.
Power is transmitted to the front axle (for a few years optional AWD) through automatic or manual transmission. In 1987 it introduced version with an extended wheelbase – called Grand Caravan. In 1988 it introduced yet another derivative of the model, the Chrysler Voyager, and two years later, slightly more upscale Chrysler Town & Country. Since 2008 it produced the fifth generation of the model, only available in configurations with long wheelbase. Also this year there is another design for twin Caravana – Volkswagen Routan.
2001-2007 Dodge Caravan Timing Marks Diagram (3.8 L EGH V6 Engine):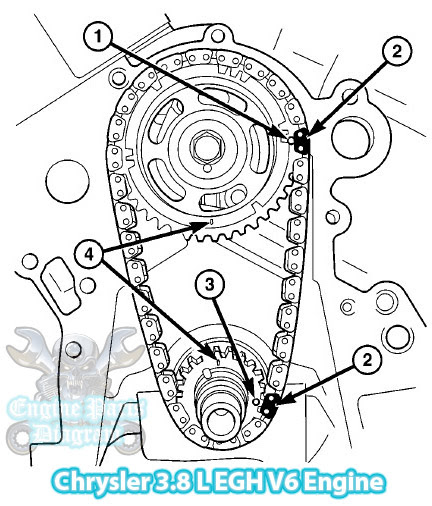 Camshaft Sprocket Timing Mark (Dot)
Plated Link
Crankshaft Sprocket Timing Mark (Dot)
Arrows
Note: Position the sprocket on the crankshaft (timing mark out) with the timing slot aligned with the timing pin. Lubricate timing chain and sprockets with clean engine oil before installation. For more details, please see the following video:
The diagram above applies to Dodge Caravan 2001 2002 2003 2004 2005 2006 2007 years model. This machine is also applied to:
1991–1993 Chrysler New Yorker and Chrysler Imperial
1994–2010 Chrysler minivans
2004–2007 Chrysler Pacifica
2007–2011 Jeep Wrangler
2009–2010 Volkswagen Routan
Hopefully the article of 2001 Dodge Caravan Timing Marks Diagram (3.8L EGH V6 Engine) useful for you.
(Visited 244 times, 1 visits today)