DIY Reset Tire Pressure Warning Light on Buick Rendezvous – Rendezvous is a mid-size SUV crossover produced by Buick from 2002 to 2007. Rendezvous was the first vehicle with these features produced by Buick from the 1920s. In fact, Rendezvous was considered as a light truck, combining the qualities of a van (large load capacity and seven seats), the characteristics of a luxurious vehicle and the peculiarities of an SUV (large bodywork and integral traction), since Was offered with a four-door SUV crossover bodywork.
Rendezvous was assembled at Ramos Arizpe, Mexico, where he shared production lines with Pontiac Aztek. Instead of the usual all-wheel drive, Rendezvous offered the Versatrak, a fully automatic permanent traction system that provided optimum traction on a snowy and wet bottom, and was able to deal with moderate off-road trails but was not designed to Off-road paths of a demanding nature.
DIY Reset Tire Pressure Warning Light on Buick Rendezvous:
If you receive a low-tire-pressure monitoring system (TPMS) warning light while driving and you want to clear or turning off the warning light on your 2002 2003 2004 2005 2006 2007 Buick Rendezvous, follow these instructions:
Stop the vehicle in a safe place and turn the engine switch off and engage the parking brake.
Let the tires cool, then adjust the tire inflation pressure recommended on the tire placard located on the door panel.
Turn the engine switch to the "ON" position
Press the MODE button until LOW TIRE PRESSURE HOLD SET TO RESET appears on the display
Locate and press the SET button until you heard three chimes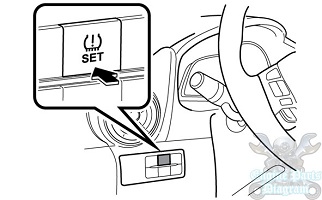 Finally turn the engine switch to the "ACC" or "LOCK" position.
Driving for a few miles (kilometers), calibration will complete after 2 minutes of cumulative driving at 20 mph (32 km/h).
Repeat the procedure if the LOW TIRE PRESSURE message comes back on. This procedure can be applied to all the generations of Buick Rendezvous (2002 2003 2004 2005 2006 2007) models, which is equipped with a Tire Pressure Monitoring System (TPMS). Hopefully, the article of DIY Reset Tire Pressure Warning Light on Buick Rendezvous useful for you.
(Visited 797 times, 1 visits today)