Nissan Sentra SE-R 2.5 L QR25DE Engine Timing Mark Diagram – The Nissan Sentra is a compact car types (from 2007 happens to be mid-size) manufactured by Nissan since 1982; is a version different from the name Sunny selling in Japan the Japanese manufacturer. The new B15 chassis is built factory Aguascalientes, Aguascalientes, Mexico; the design of the new Nissan Sunny Nissan diverges force Japanese model derived from the Sentra.
The new SE-R appears that 2002 team QR25DE 2.5L engine 165 hp and 5-speed manual transmission (an automatic optional); SE-R Spec V equipment 175 hp 6-speed manual transmission with a self-locking Torsen differential; this engine with the Sentra SE-R Spec V covered the quarter mile in 15.4 seconds. It is the sportier version of the Sentra and well equipped. In 2002 began its production and during manufacture, this model has enjoyed a good reception due to its good mechanical performance.
Nissan Sentra B15 / B16 SE-R 2.5 L QR25DE Engine Timing Mark Diagram: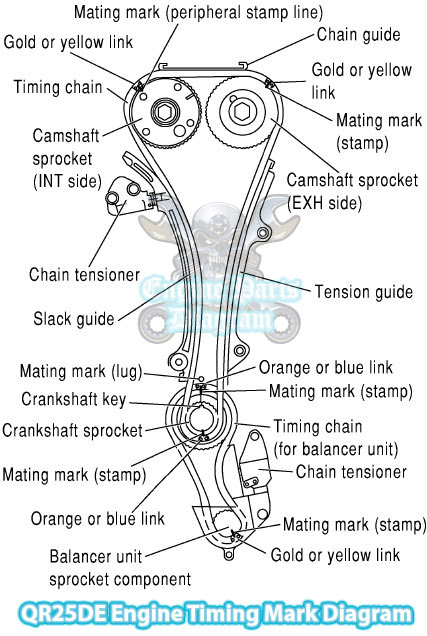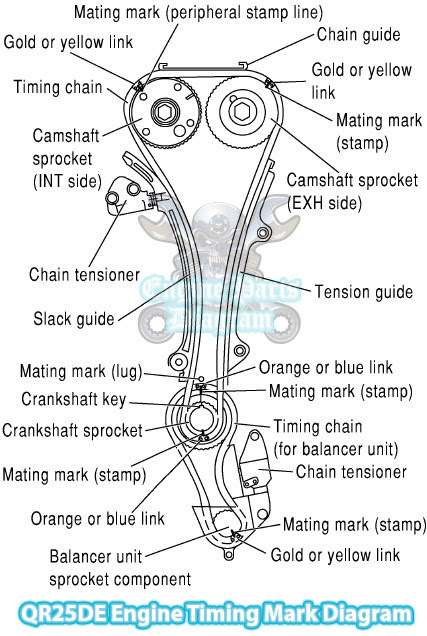 Note: When installing timing chain, make sure that mating marks are properly aligned. There may be two color variations of the link marks (link colors) on the timing chain. There are 26 links between the gold/yellow mating marks on the timing chain; and 64 links between the camshaft sprocket gold/yellow link and the crankshaft sprocket orange/blue link, on the timing chain side without the tensioner.
For more details please check the following video:
The diagram above applies to the Nissan Sentra SE-R 2002 2003 2004 2005 2006 2007 2008 2009 2010 2011 2012 years models. Also Nissan Bassara, Nissan Serena, Nissan X-Trail T30, Nissan Presage, Nissan Altima, Nissan Teana, Nissan Murano, Nissan Frontier, Nissan Altima Hybrid, Renault Koleos TR25, Nissan Rogue, Suzuki Equator, Nissan Teana that use the QR25DE Engine. Hopefully the article of Nissan Sentra SE-R 2.5 L QR25DE Engine Timing Mark Diagram useful for you.
(Visited 1,047 times, 2 visits today)