Nissan Maxima Timing Chain Marks (3.5 L VQ35DE V6 Engine) – The all-new Nissan Maxima 2016 has been officially launched by Nissan on the floor of the New York International Auto Show in 2015. Nissan Maxima is the flagship model of Nissan. 2016 Nissan Maxima presence not only change the concept of its position as a "4-Door Sports Car", but at the same time set new standards in design, performance, and technology in the large sedan segment.
2016 Nissan Maxima new design language exudes from Nissan to the forefront featuring grille V-Motion, boomerang lights, the unique C-pillar, along with the roof that looks floating. VQ engine 3.5-liter V6 has been redesigned with more than 60% of new components (compared to the 3.5-liter V6 engine previously). The great strength of 300 hp, so as to produce a specific power of 85.7 hp/liter. The efficiency of fuel consumption increased 15% to 12.75 km/liter. To complete the revision of the power source, Nissan has improved Xtronic transmission.
2002-2016 Nissan Maxima Timing Chain Marks (3.5 L VQ35DE V6 Engine):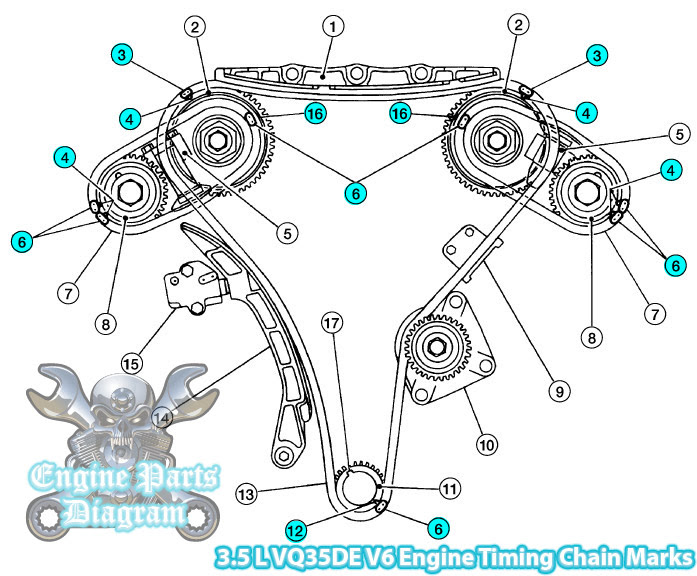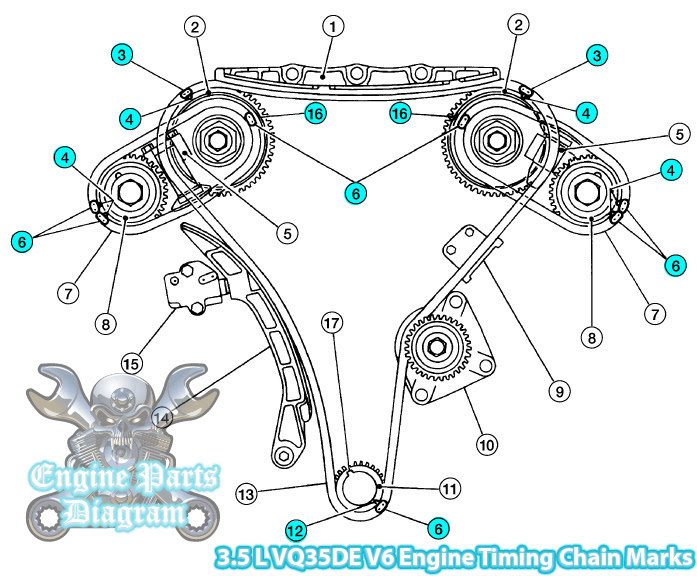 1. Internal chain guide
2. Camshaft sprocket (intake)
3. Mating Mark (copper link)
4. Mating Mark (punched)
5. Secondary timing chain tensioner
6. Mating mark (yellow link)
7. Secondary timing chain
8. Camshaft sprocket (exhaust)
9. Tensioner Guide
10. Water pump
11. Crankshaft sprocket
12. Mating Mark (notched)
13. Primary timing chain
14. Slack guide
15. Primary timing chain tensioner
16. Mating mark (back side)
17. Crankshaft Key
The figure shows the relationship between the mating mark on each timing chain and that on the corresponding sprocket, the components installed.
For more information please watch the following video:
Besides applied to the Nissan Maxima 2002 2003 2004 2005 2006 2007 2008 2009 2010 2011 2012 2013 2014 2015 2016 years models, this figure is also valid for the 2001-2004 Nissan Pathfinder, Infiniti QX4 2001-2004, 2002-2004 Infiniti I35, 2002-2016 Nissan Altima, 2003-2006 Nissan 350Z, 2003-2007 Infiniti G35, Infiniti FX35 2003-2008, 2003-2016 Nissan Murano (Z50), 2004-2016 Nissan Quest, 2006-2008 Infiniti M35, Infiniti JX35 2013-2013, 2014-2016 Infiniti QX60. Hopefully the article of Nissan Maxima Timing Chain Marks (3.5 L VQ35DE V6 Engine) useful for you.
(Visited 4,747 times, 1 visits today)