1996-2006 Chrysler Cirrus Timing Marks Diagram (2.4L Engine)
Last Updated on February 6, 2020 by Christ
1996-2006 Chrysler Cirrus Timing Marks Diagram (2.4L Engine) – The Cirrus was a mid-size car produced by Chrysler from 1995 to 2006. Chrysler Cirrus was based on an eponymous concept car that was unveiled at the Detroit Motor Show 1992. Development of the model began last year with the aim of creating a fun model to drive and comes with a selection of attractive, but also suitable for families. The concept car was equipped with rear-hinged doors and of a supercharged engine by 3 L and 400 hp. The cabin was in a fairly advanced position, the line had the aerodynamic shapes and the windshield was particularly inclined. The front and rear ends were made fairly similar.
The Cirrus series production was based on the JA floor of the Chrysler Group and was equipped with independent suspension (double-wishbone front and a multilink suspension at the rear embers). The gearbox was a five-speed manual or four-speed automatic. The brake booster was offered as standard. The engine was front and transverse, and the traction was at the front. Among the equipment offered as standard, they were offered air conditioning, ABS, cruise control, electric windows, central locking, and electrically adjustable door mirrors. The features included were two, one basis (LX) and a more luxurious (LXi). In 1998, the LX construction was removed from the lists but was reintroduced in 2000 to compensate for the disappearance of the Plymouth Breeze.
1996-2006 Chrysler Cirrus Timing Marks Diagram (2.4L Engine)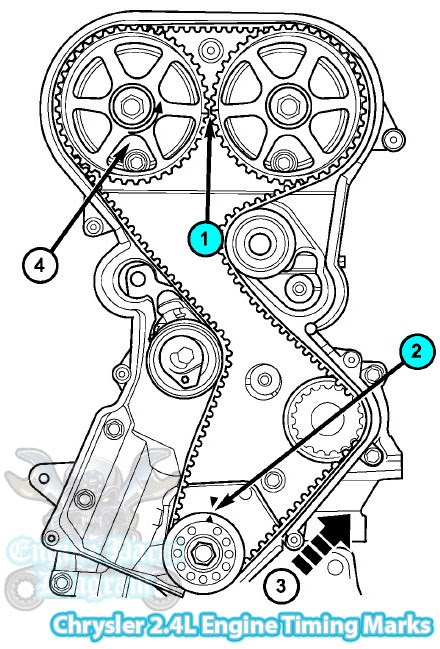 Camshaft Timing Marks 1/2 Notch Location
Crankshaft At TDC
Install Belt In This Direction
Rotate Camshaft Sprocket To Take Up Belt Slack
NOTE: Repositioning the crankshaft to the TDC position must be done only during the CLOCKWISE rotation movement. If TDC is missed, rotate a further two revolutions until TDC is achieved. DO NOT rotate crankshaft counterclockwise as this will make verification of proper tensioner setting impossible.
For more details please watch the following video:
This diagram applies to the Chrysler Cirrus 1996 1997 1998 1999 2000 2001 2002 2003 2004 2005 2006 years model that uses Chrysler 2.4L Turbo Engine. The diagram also applies to:
Chrysler PT Cruiser GT
Dodge Stratus R/T
1995–2006 Chrysler Sebring
1995–2006 Dodge Stratus
1996-2007 Dodge Caravan
2002–2005 Jeep Liberty
1996-2000 Plymouth Voyager
1996–2000 Plymouth Breeze
2007-2010 GAZ-31105 Volga
This diagram is based on the Chrysler workshop manual. Hopefully the article of 1996-2006 Chrysler Cirrus Timing Marks Diagram (2.4L Engine) useful for you.
(Visited 834 times, 1 visits today)