Jeep Commander XK 3.7 L PowerTech V6 Engine Timing Marks – The Jeep Commander is an all-terrain SUV with 7 seats belonging to the American Chrysler Group with Jeep brand. On the underbody of the Jeep Grand Cherokee-based, he came in May 2006 to the German market and was the top model in the Jeep lineup. The delivered in Germany Commander model was manufactured from 2006 until about mid-2009 at Magna Steyr in Graz / Austria. The version with a 3.0-liter V6 diesel engine from Mercedes-Benz has been exclusively produced in Graz for the European market.
The angular body shape of the Jeep Commander is reminiscent of the old Jeep Cherokee XJ; vertical windows and headlights and flared wheel arches are intended to bring a particularly masculine appearance. Unlike the Grand Cherokee, the Commander is equipped exclusively with seven seats. The Commander was initially available in the equipment versions Sport and Limited. The sport comprised the basic version with cloth seats and without chrome trim, while the better-equipped Limited is equipped with leather seats and parking assistance seat heat.
2006-2010 Jeep Commander XK 3.7 L PowerTech V6 Engine Timing Marks: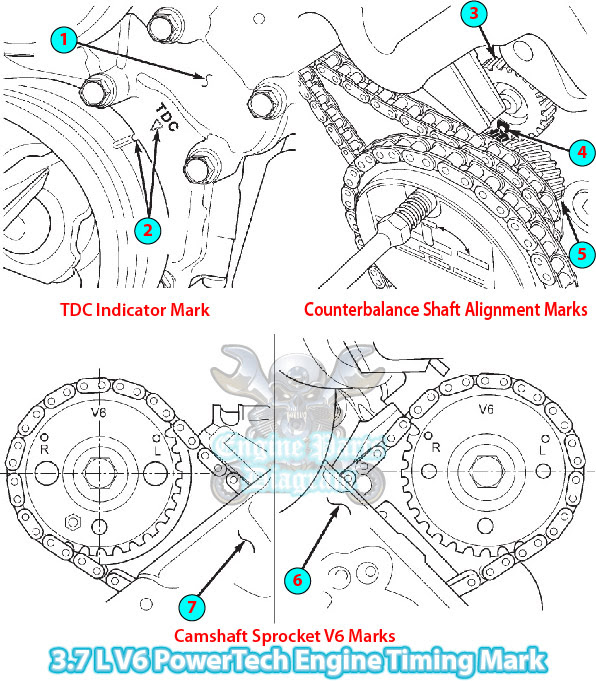 Timing Chain Cover
Crankshaft Timing Marks
Counterbalance Shaft
Timing Marks
Idler Sprocket
Left Cylinder Head
Right Cylinder Head
NOTE: Components referred to as left hand or right hand is as viewed from the driver's position inside the vehicle.
For more detail please watch the following video:
The diagram above applies to Jeep Commander 2006 2007 2008 2009 2010 years models. In addition, the 3.7 L PowerTech V6 engine is also used in:
Dodge Durango (2004 2005 2006 2007 2008 2009)
Dodge Nitro (2007 2008 2009 2010 2011)
Jeep Liberty/ Cherokee (2002 2003 2004 2005 2006 2007 2008 2009 2010 2011 2012 2013)
Jeep Grand Cherokee (2005 2006 2007 2008 2009 2010)
Mitsubishi Raider (2006 2007 2008 2009 2010)
Dodge M80 (2002)
Hopefully, the article of Jeep Commander XK 3.7 L PowerTech V6 Engine Timing Marks useful for you
(Visited 2,073 times, 1 visits today)