How to Reset Tire Pressure TPMS Light on 2018 Chevy Traverse
How to Reset Tire Pressure TPMS Light on 2018 Chevy Traverse – The Traverse is a full-size SUV crossover produced by Chevrolet since 2008. In 2012 the Traverse was subject to a makeover. The revamped model was presented at the New York Motor Show of the same year and features a new grille, a revised front, a new tailgate, fully renovated wheels, and new rear lights that are inspired by those of the Chevrolet Camaro.
Depending on the model, both fabric and leather interiors are available. It is still possible to choose between front and rear wheel drive, and between different trim levels, ranging between the 1LS base and the 1LTZ luxury one. A Bose sound system is available on the 2LT and 1LTZ versions.
How to Reset Tire Pressure TPMS Light on 2018 Chevy Traverse:
If you receive a low-tire-pressure monitoring system (TPMS) warning light while driving and you want to clear or turning off the warning light on your 2018 2019 Chevy Traverse, follow these instructions:
Make sure the vehicle is at a complete stop
Turn the engine switch off
Adjust the tire inflation pressure recommended on the tire placard located on the door panel.
Driving for a few miles (kilometers), calibration will complete after 2 minutes of cumulative driving at 20 mph (32 km/h).
If you replaced a wheel, tire, TPMS sensor etc. and are now getting a warning light on your car, then the sensor needs to be reset. To relearn or reset the Tire Pressure Monitoring System (TPMS) sensor on your 2018 2019 Chevy Traverse you must have a TPMS relearn tool and follow these steps:
Stop the vehicle in a safe place and turn the engine switch off and engage the parking brake.
Place the vehicle in Service Mode by pressing and holding ENGINE START/STOP for more than five seconds without depressing the brake pedal.
Use the DIC controls on the right side of the steering wheel to scroll to the Tire Pressure Menu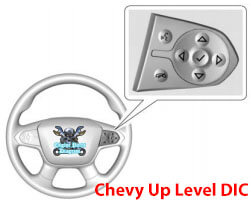 Press and hold the button to begin the sensor matching process.
Press the button again to confirm
The horn sounds twice to signal the receiver is in relearn mode
Starting from the driver's side front tire, place the relearn tool against the tire sidewall, near the valve stem. Then press the button to activate the TPMS sensor.
Repeat the procedure on the right-front tire, the right rear tire, and the last one left rear tire.
A horn chirp confirms that the sensor identification code has been matched to this tire and wheel position.
Turn the ignition off and start the engine to verify the indicator has been reset.
For more details, please watch the following video:
This procedure should be work on the latest generation of Chevy Traverse (2018 2019 2020 model years). Hopefully, the article of How to Reset Tire Pressure TPMS Light on 2018 Chevy Traverse useful for you.
(Visited 21 times, 1 visits today)