2009 Dodge Challenger SE 3.5 L Engine Timing Marks Diagram – The Dodge Challenger muscle car is a car type manufactured by the US car maker Dodge, Chrysler subsidiary since 1970. Since then, there have been three generations of Challenger: 1962-1974, 1978-1983 and 2008 to date. Available for sale in the United States, Canada and in Mexico. Challenger the base model is powered by a V6 3.5L (214 cc) producing 250 horsepower and 339 Nm of torque. It can reach 250 km / h and has a 4-speed automatic transmission.
Have different exterior colors, interiors are available in fabric or leather. Standard Features: Includes air conditioning, power windows, power locks, power mirrors, cruise control and 17-inch wheels (430 mm). They are also available with leather upholstery, heated front seats, sunroof, 18-inch wheels, and audio equipment. As security options, it has ABS brakes and traction control system and stability. In the Canadian market SXT, similar to the SE is offered, however, it is even more generous in terms of standard features. Some of these features include ESP, alarm system and 18-inch (460 mm).
2009-2010 Dodge Challenger SE 3.5 L Engine Timing Marks Diagram: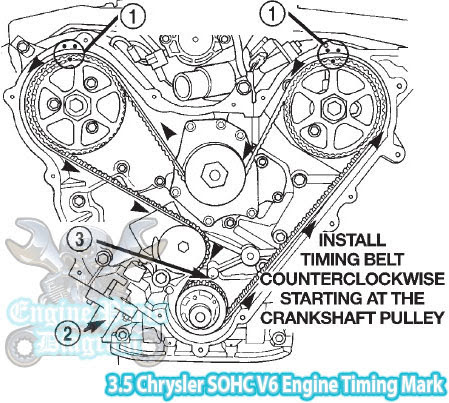 Align Camshafts With Timing Marks
Install Tensioner Loose
Crankshaft At TDC
Note: If camshafts have moved from the timing marks, always rotate camshaft towards the direction nearest to the timing marks (DO NOT TURN CAMSHAFTS A FULL REVOLUTION OR DAMAGE to valves and/or pistons could result).
This diagram applied for 2009 2010 Dodge Challenger SE that use 3.5 Chrysler SOHC V6 engine (EGG). This engine also applied on:
2004-2006 Chrysler Pacifica
2005-2010 Chrysler 300
2005-2008 Dodge Magnum SXT
2006-2010 Dodge Charger
2000-2004 Dodge Intrepid R/T and SXT
1998-2001 Chrysler LHS
1999-2004 Chrysler 300M
2002-2004 Chrysler Concorde Limited
1999-2002 Plymouth Prowler
Hopefully the article of 2009 Dodge Challenger SE 3.5 L Engine Timing Marks Diagram useful for you
(Visited 564 times, 9 visits today)