2009-2011 Toyota Matrix Timing Marks (2.4 L 2AZ-FE Engine) – The Toyota Matrix, Voltz, and Pontiac Vibe is a passenger car segment C developed jointly by Toyota and General Motors manufacturers and sold since 2002 under the Toyota and Pontiac brands. It is five places with a transverse front engine, front-wheel drive or four-wheel body and five-door hatchback, which is manufactured in Fremont, California, United States.
The second generation Matrix started selling in the first quarter of 2008, with the same structure tenth generation Corolla. The Matrix was officially launched at the 2007 SEMA Show, and the Vibe in the LA Auto Show that year. Its two engines are atmospheric gasoline inline four: a 1.8-liter 134 hp and a 2.4 liter 160 hp.
2009-2011 Toyota Matrix Timing Marks (2.4 L 2AZ-FE Engine):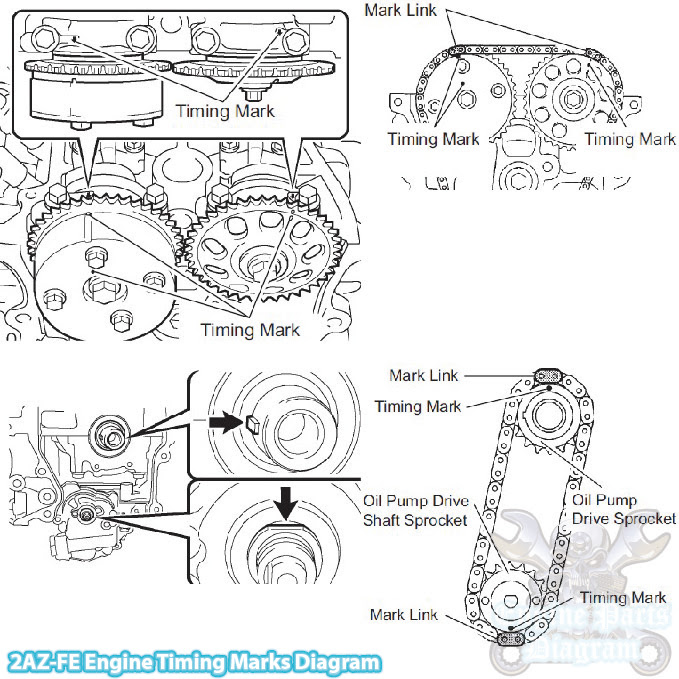 Note: Set the crankshaft key in the left horizontal position. Turn the cutout of the drive shaft so that it faces upward. Align the yellow mark links with the timing marks of each gear as shown in the illustration. Turn the camshafts with a wrench (using the hexagonal lobe) to align the timing marks of the camshaft timing gear with each timing mark.
Here is a video on how to install the timing chain, you can see the timing mark in detail:
The diagram above applies to the Toyota Matrix 2009 2010 2011 years models. It also applies to cars that use 2AZ-FE engine such as:
Pontiac Vibe (2009 2010)
Toyota Corolla XRS (2009 2010)
Toyota Camry Solara (2002 2003 2004 2005 2006 2007 2008)
Toyota RAV4 (2004 2005 2006 2007)
Toyota Highlander/ Kluger/ Harrier (2001 2002 2003 2004 2005 2006 2007)
Toyota Estima / Toyota Ipsum / Toyota Previa / Toyota Tarago
Toyota Alphard
Toyota Blade
Toyota Avensis
Scion tC
Scion xB
Toyota MarkX Zio
Hopefully the article of 2009-2011 Toyota Matrix Timing Marks (2.4 L 2AZ-FE Engine) useful for you
(Visited 1,910 times, 1 visits today)