2004-2007 Toyota RAV4 2AZ-FE Engine Timing Marks Diagram – The Toyota RAV4 is a sports utility vehicle (SUV) by the Japanese car manufacturer Toyota. It was the first compact crossover SUV, which made its debut in Japan and Europe in 1994, and the following year in the US. The vehicle is designed for consumers who have a vehicle requires that most of the benefits of an SUV, such as an enlarged cargo area, higher visibility and the option of full-time four-wheel drive, plus the mobility and fuel efficiency of a compact car.
Although not all RAV4's on four-wheel drive, is RAV4 for "Recreational Active Vehicle" with four draws, because of the above equipment only an option in certain countries. The early success of the RAV4 paved the way for competitive compact crossover SUVs like the Ford Escape and Subaru Forester. In other markets, it is about the cruiser counterpart of the FJ Cruiser Toyota. Since the 2006 third generation model, Toyota offered both short- and long-wheelbase versions of the RAV4. Short-wheelbase versions sold in Japan and Europe, Australia and North America received the long-wheelbase versions.
2004-2007 Toyota RAV4 2AZ-FE Engine Timing Marks Diagram: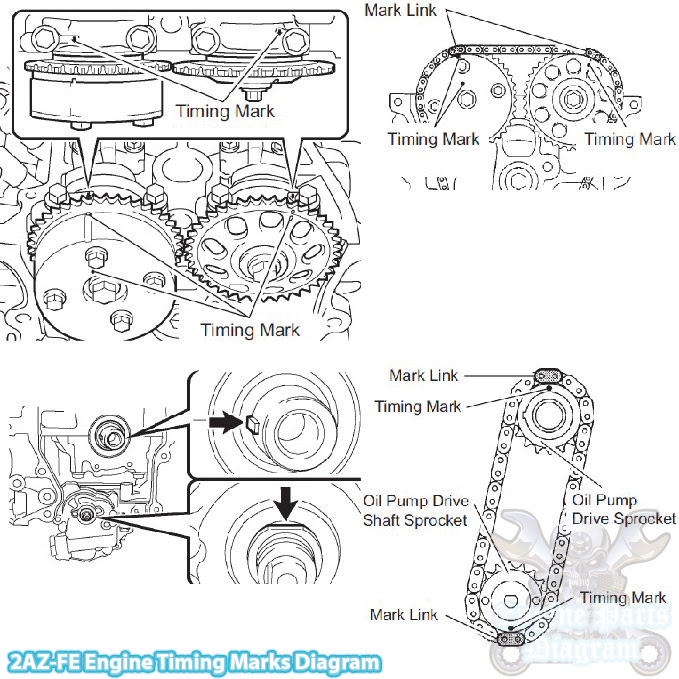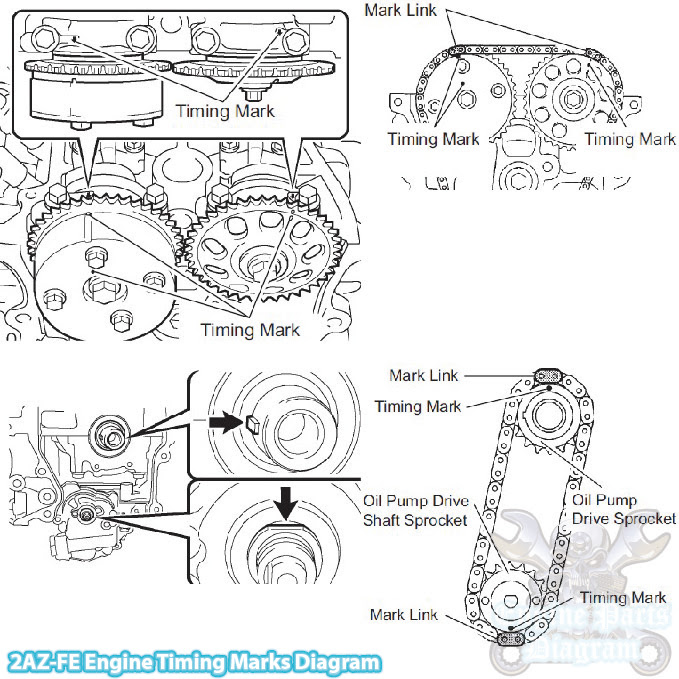 Note: Set the crankshaft key in the left horizontal position. Turn the cutout of the drive shaft so that it faces upward. Align the yellow mark links with the timing marks of each gear as shown in the illustration. Turn the camshafts with a wrench (using the hexagonal lobe) to align the timing marks of the camshaft timing gear with each timing mark.
Here is a video on how to install the timing chain, you can see the timing mark in detail:
The diagram above applies to the Toyota RAV4 2004 2005 2006 2007 years models. It also applies to cars that use 2AZ-FE engine such as:
Toyota Matrix S (2009 2010 2011)
Pontiac Vibe (2009 2010)
Toyota Corolla XRS (2009 2010)
Toyota Camry Solara (2002 2003 2004 2005 2006 2007 2008)
Toyota Highlander/ Kluger/ Harrier (2001 2002 2003 2004 2005 2006 2007)
Toyota Estima / Toyota Ipsum / Toyota Previa / Toyota Tarago
Toyota Alphard
Toyota Blade
Toyota Avensis
Scion tC
Scion xB
Toyota MarkX Zio
Hopefully the article of 2004-2007 Toyota RAV4 2AZ-FE Engine Timing Marks Diagram useful for you.
(Visited 6,102 times, 1 visits today)