2003 Dodge Neon SRT4 Timing Belt Marks Diagram (2.4L Engine) – The Dodge Neon SRT-4 was based on and closely related to the Dodge Neon in 2000. The prototype of the car out of the way, the same year was named Neon SRT. The car went into production in Belvidere Assembly Plant in Illinois (USA) and differed in many respects from the Neon. The SRT-4 had a unique sporty bodywork, larger tires, and a 2.4-liter turbo I4 hypodermic.
The powertrain, suspension, brakes, exhaust and largely differed interior. However, the seats were taken from the Dodge Viper SRT-10. In 2004, the SRT-4 has been improved with more power and torque, a torque-sensitive limited slip differential, larger fuel injectors and tires and modifications to the equipment. In 2005 appeared the ACR-American Club Racer edition, racing version. As late as 2005 he published the commemorative limited edition with a special finish. Of these 200 numbered copies were built.
2003 Dodge Neon SRT4 Timing Belt Marks Diagram (2.4L Engine):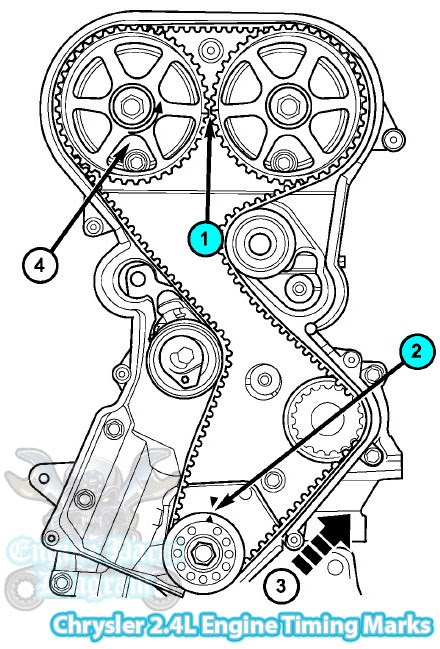 Camshaft Timing Marks 1/2 Notch Location
Crankshaft At TDC
Install Belt In This Direction
Rotate Camshaft Sprocket To Take Up Belt Slack
NOTE: Repositioning the crankshaft to the TDC position must be done only during the CLOCKWISE rotation movement. If TDC is missed, rotate a further two revolutions until TDC is achieved. DO NOT rotate crankshaft counterclockwise as this will make verification of proper tensioner setting impossible.
For more details please watch the following video:
This diagram applies to the Dodge Neon SRT-4 2003 2004 2005 years model that uses Chrysler 2.4L Turbo Engine. The diagram also applies to:
Chrysler PT Cruiser GT
Dodge Stratus R/T
Chrysler Cirrus Lxi
1995–1998, 2000 Chrysler Cirrus
1995–2006 Chrysler Sebring
1995–2006 Dodge Stratus
1996-2007 Dodge Caravan
2002–2005 Jeep Liberty
1996-2000 Plymouth Voyager
1996–2000 Plymouth Breeze
2007-2010 GAZ-31105 Volga
Hopefully the article of 2003 Dodge Neon SRT4 Timing Belt Marks Diagram (2.4L Engine) useful for you.
(Visited 1,301 times, 9 visits today)