2001-2006 Dodge Stratus Sedan 2.7 L V6 Engine Timing Marks – The Dodge Stratus was a 1995-2006 of the US carmakers Dodge offered in two model generations of the middle class with front-wheel drive. In summer 2000, the Stratus was renewed and since then based on the Chrysler JR platform; its counterpart was the Chrysler Sebring, a Plymouth variant no longer existed, since the brand was abandoned in of 2001.
The slightly larger second Stratus was driven by a 2.4-liter four-cylinder or a 2.7-liter V6 now with our own engines. In early 2004 received the Stratus sedan a minor facelift with a lowered grille and modified front apron. In May 2006 the production of Stratus sedan was discontinued. In Argentina, the Dodge Stratus Sedan still continued to produce in a more simple and easy redesigned version. However, this was mainly intended for export to other South American and Central American countries.
2001-2006 Dodge Stratus Sedan 2.7 L V6 Engine Timing Marks: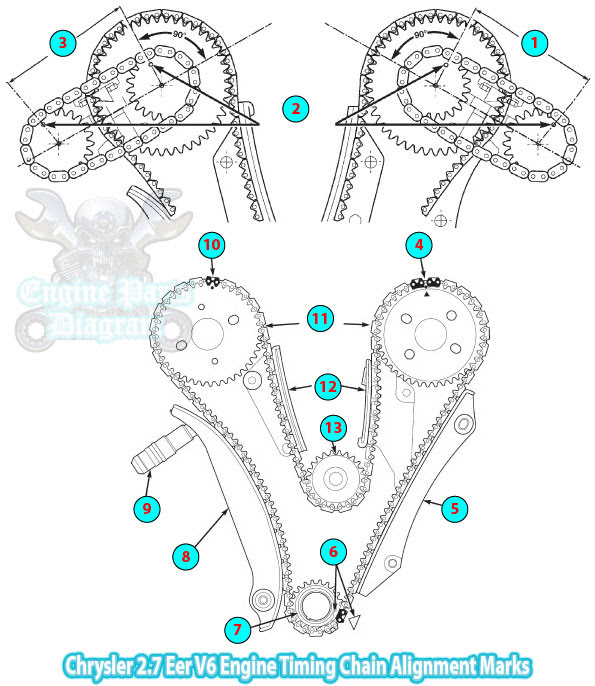 12 PINS
CAMSHAFT TIMING MARKS
12 PINS
CAMSHAFT TIMING MARKS
CHAIN GUIDE
CRANKSHAFT TIMING MARKS
CRANKSHAFT SPROCKET
CHAIN TENSIONER ARM
CHAIN TENSIONER
CAMSHAFT TIMING MARK
INTAKE CAMSHAFT SPROCKETS
CHAIN GUIDES
WATER PUMP SPROCKET
Note: When aligning timing marks, always rotate the engine by turning the crankshaft. Failure to do so will result in valve and/or piston damage.
This diagram applied for Dodge Stratus 2001 2002 2003 2004 2005 2006 years model that use 2.7 EER V6 Engine. This engine also applied on:
1998-2001 Chrysler 300M (Europe)
1998-2004 Chrysler Concorde
1998-2004 Dodge Intrepid / Chrysler Intrepid
2006-2010 Dodge Charger SE
2008-2010 Dodge Avenger
2002-2004 Chrysler Intrepid (Canada)
2009-2010 Dodge Journey (non-US markets)
Hopefully, the article of 2001-2006 Dodge Stratus Sedan 2.7 L V6 Engine Timing Marks useful for you.
(Visited 1,437 times, 1 visits today)